Welcome to the Fall! This summer was definitely one for the books and I'm pretty sure I changed my hair style once every few weeks lol. Here are a few of my favorite protective styles that work year round!
Braids
I'm pretty sure I've been wearing braids longer than I've even known what they were called. I can ALWAYS appreciate a set of individual braids for their versatility! Whether worn up, down, or a crown braids, this style always seems to match my outfit and mood. I know I'm not the only one that plans my hairstyles around what I'm wearing... or am I? lol Either way, my head has been blessed by the BEST braider! Contact me for her number and she'll get you right!
Crochet Braids
Crochet braids have become one of my favorite, go-to styles! I was randomly shopping for a client's hair when I came across these beautiful curls! This hair, Soft Baby Curl by Freetress in 1B, was such a hit! I ended up doing this same style for 2 people over the course of the summer and they also fell in love with them. If you're looking for an extremely low maintenance style, this is for you. I would wake up, shake my hair and go!
Wiggin' It
Weave and I have a love-hate relationship. After going a year or two without bundles, I always begin to reminisce on many hair flips. 22 inches of hair just does something to a woman, ya know? (Sorry to my guys that may be reading lol). I was certain I did not want a sew-in. I had no intentions of patting my head all day long in the scorching Atlanta heat. Instead, I made my first weave wig and I must say, I did an awesome job! Shout out to Ibisa for talking me through what was a 3/4 hour process!
Natural Hair Stylings
And as always, natural hair is the reason for all of these protective styles. Like many other women, once I get braids, I can't wait to get weave. Once I get weave, I can't wait to have my curls out. After having my curls out, I can't wait for someone else to be dealing with my hair lol. I made a conscious effort to keep my hair out a bit more to let it breathe. The first photo featured is actually a Marley bun WITH curled Marley hair crocheted in. Y'all... with the right amount of frizz, it easily passes for your hair! The last 2 photos are of a protective style that I did around June. 4 flat twists in the back and a front bang accomplished by twisting my hair and perm-rodding them up.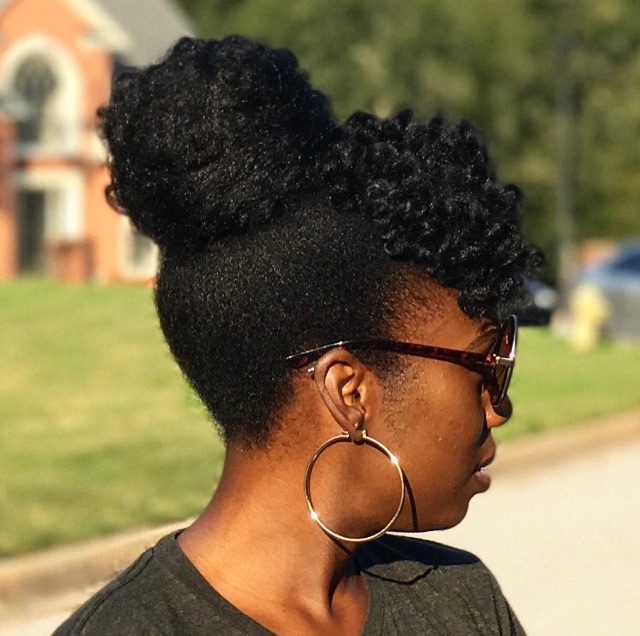 Now, some of these photos aren't the best so I solemnly do PROMISE to do SO much better at chronicling all of my "HairVentures." lol. Hold me to it! See a style that'd you like more details on? Comment below!
What are some of your favorite protective styles to keep your hands out of your hair?